APRIL ACTIVITIES
.
New portable display board for Community Healthcare messages to improve members' health and wellbeing
Throughout April our Community Health Champions made use of our weekly emails as well as the Zoom meetings and in person meetings to promote healthcare messages and encourage members to complete surveys on health issues. One of the most recent interventions was about Mental Health followed by Bowel Cancer Awareness and Screening. Pictured above, our new portable tabletop display board with leaflets for members to take away.

At the beginning of the month members of the group joined forces with volunteers and staff from the Beth Johnson Foundation for a Discover Digital Engagement Event at St John's Centre, Trent Vale.. We looked at some basic issues such as cyber security, recognising and avoiding online scams as well as generally improving our digital skills.
The event was acknowledged to have been most useful by participants who expressed a keen desire for more workshops on specific areas like use of Microsoft Office and sharing helpful online resources.
Some members visited the Titanic – Honour and Glory  exhibition in the Potteries Museum  and Art Gallery and reported that it gave a fascinating insight into the world of trans Atlantic transport in the early years of the 20th century, as well as a touching memorial of a devastating nautical tragedy in which around 1500 of the 2 200 passengers an crew lost their lives.  The exhibition was accompanied by a series of events including the screening pictured above of a production at the Mitchell Arts Centre to mark the centenary in 2012 of the sinking of the ship. The performance was captured on film by Ray Johnson MBE.
WEEKLY MEETINGS
In April, we held three online meetings and one in person meeting at Fenton Town Hall Cafe. All were well attended and topics included LGBT TV series, local and national news events as well as the upcoming AGM and our involvement in  Stoke Pride on Saturday 18 June in Hanley Park. Several people have signed up to help on the day…but more volunteers are welcome. (Anyone interested…please reply to this email). The month saw the approval of two new members and an increase in the mailing list that topped 200 for the first time ever.
Next month, our Annual General Meeting takes place online at 5.30 pm Tuesday 17 May. We have three members up for election as new trustees.  Everyone is invited to the AGM…but only members can vote.
RECLAIM – LGBT+ Mental Health Project
Fired Sunflowers before the final steps of the project
At the end of April we had our final workshop when we placed our fired sunflowers on to the structure we had built over the time of the project..in the knowledge they would survive the final reclamation process that would see all our unfired creations crumble and dissolve into slip. Of course, we know that this slip in turn will provide reclaimed clay for other people to use on other projects.
As we added more and more water, the complex structure slowly began to collapse and crumble. The process clearly had an emotional impact on all participants watching the items they had created over the past months dissolve away.
Perhaps as people reflected, associations came to mind between the collapsing clay structures and images of the totally destroyed Ukrainian city of Mariupol
Amidst the debris, our fired sunflowers glazed with the national blue and yellow colours of Ukraine survived – a symbol of hope and resilience.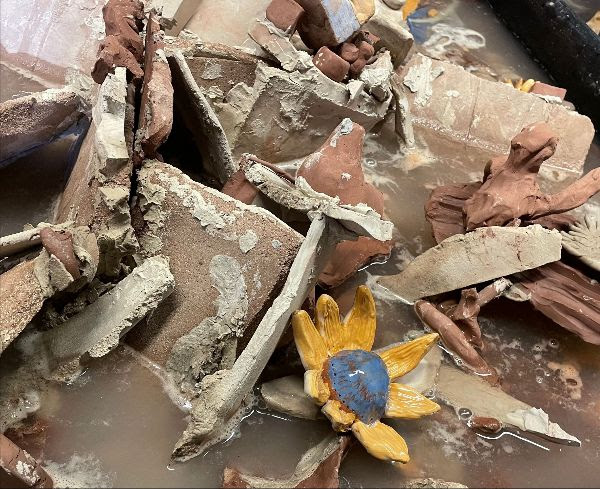 An integral part of the project was its photographic and filmed record. Our final session included voice recordings of lines from T S Elliott's 'Four Quartets. We are looking forward to viewing the completed film by
Blythe Taylor