July Zoom Meetings
Attendance at our online meetings have been reassuring, we generally have ten or more attendees. Apart from checking up that everyone is alright, there have been some helpful sharing of information…like helping people book in a car service or MOT in lockdown, and get shopping delivered via Amazon Prime.

It is equally encouraging to discover that members have been meeting up in each others homes and gardens. We hope to follow up these brave leads with a picnic in Hanley park as soon as weather and the lastest guidelines permit. Watch out for details. The important thing is that we are continuing to support one another.



Photo – Stephen

Annual General Meeting
Because of the lockdown and members shielding, for the first time ever, the AGM was a virtual meeting held online. Two non-members attended in addition to seven members. Maurice, the current Chair, gave a summary of the Annual Report and Financial Statement which had been made availble on the group's website prior to the meeting. Both were accepted unamimously.

The new constitution allows for 12 trustees. Six members were nominated and all elected unanimously. Our visitors helped to oversee procedures including the counting of votes.

Trustees elected: Angie, Dennis, John M (Secretary), Maurice (Chair), Paul (Treasurer) and Stephen.

Maurice thanked everyone for their dedicated service over the past year

As Angie has handed over the role of Treasurer to Paul, we would like to record a special thank you to her for all her hard work over the past five years in the post.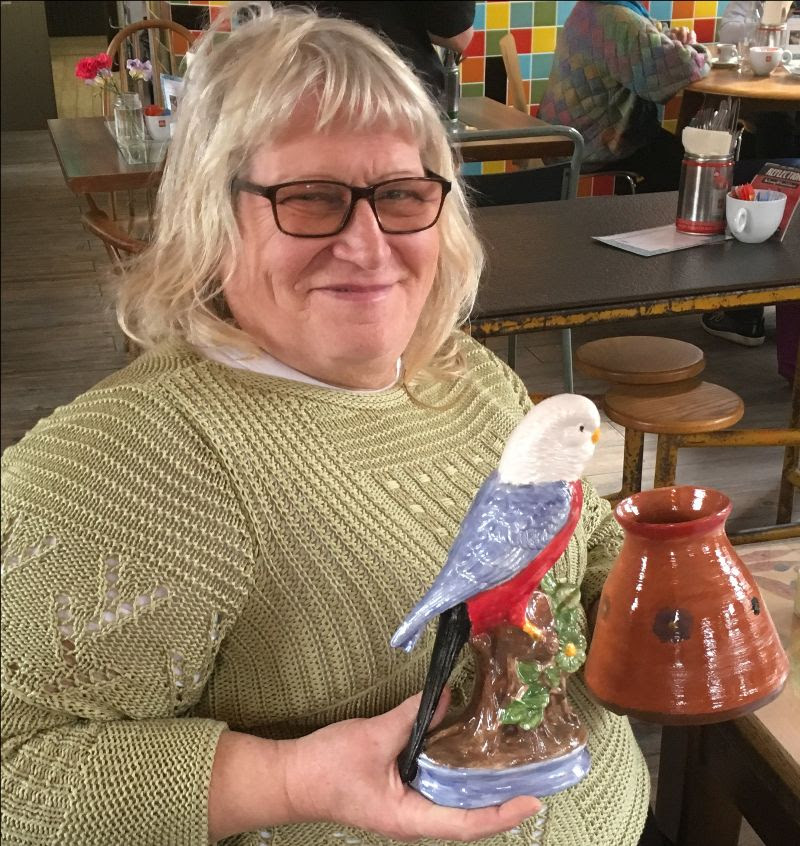 Angie with items she made in the ceramic workshops last year
Trevor
It is with great sadness we report the passing of our beloved member Trevor who died peacefully at Stoke Hospital on Friday following our AGM. Our sincere condolences and deepest sympathy go to Stephen and Trevor's family.

Trevor with Stephen and John at Trentham Gardens 2018


Want to Help with COVID Research?
The COVID Symptom Study app has been developed by health science company ZOE. 
It is endorsed by the Welsh Government, NHS Wales, the Scottish Government & NHS Scotland. Data collected is shared with and analysed by King's College London & ZOE research teams.

People of all ages and backgrounds are joining together to fight COVID. 
You can support the NHS, help scientific research and help get us out of lockdown safely. Takes 1-minute to report your health daily, even if you are well. Get the app from Apple Store or Google Play

If you are 60 or over you might like to help with this York University project. A small group of UK university researchers are exploring the effects of COVID-19 on older LGBT+ people. They will be providing project updates on their Blog. You can find more information and take part by clicking HERE.





If you haven't already done so, please complete the Healthwatch Stoke-on-Trent Coronavirus Impact Survey to help Stoke-on-Trent health and social care services identify and address quality issues and provide the best care possible.