LOOKING BACK ON 2021 
In January we got through the short dark days by keeping ourselves active, moving with Rachael Lines of FRONTLINEdance and with Mika De Olveira Brazilian Rhythm & Movement sessions.. We also occupied ourselves with the craft of Quilling. All of these creative activities were made possible with a grant from the Coronavirus Community Support Fund.
Ciranda – a Portuguese round dance in which you can come and go as you please
Quilling with Parul Gupta
February – Cross Stitching with Cathie Powell-Davies. It was a busy month for our Chair with a TV interview alongside young Jay from Leeds and a radio interview with Yvonne from Manchester as part of the BBC Radio 4 Listening Project.
Cross stitching – Andrew
March – This month saw the start of Stoke Makes Plates Project with Sarah Fraser. We also had our first Drama Workshop with Kat from the New Vic Theatre Outreach Scheme
First steps in creation of plate
April – Picnic in Hanley Park – members and friends enjoy a spell of fine weather outside.
June – Another picnic in the park…this time at Longton Park

July – Etruria Boat Festival. In our progress across the city's parks…this time we had our picnic in Burslem Park along with a few friends.
August – Appetite Stoke, The Big Feast in Hanley over the Bank holiday weekend. On Saturday 7 August we participated in the rescheduled Stoke Pride in Hanley Park. It was a wonderful day despite the rain which luckily held off for the Parade.
September – Surprise 80th Birthday Party for our Chair Maurice at the New Vic Theatre. Visit to the British Ceramics Biennial Festival where the plates we had made with Sarah were on display. We also held our first indoor in-person group meeting at Fenton Town Hall Cafe.
November – Trip to the Mitchell Arts Centre in Hanley to see the new musical Unforgotten Heroes about local young men who were drawn into the Great War of 1914-1918. We are grateful to Steven Mountford who was responsible for producing the show and providing us with tickets.
Later in November, several group members were involved in events at Keele University Chapel, which took place under the imposing three-dimensional art work GAIA by Luke Jeram.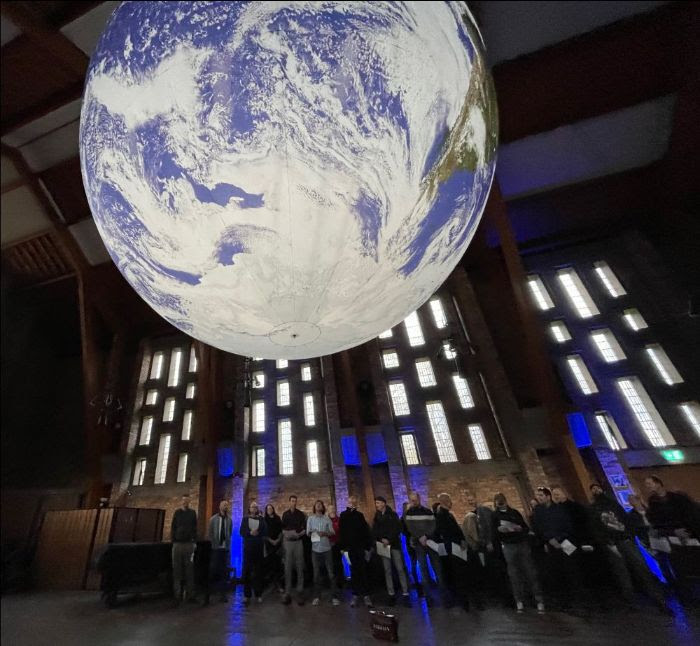 December – Our final in-person meeting at Fenton Town Hall.
Throughout the year we have met up online every Monday…apart from the four occasions when we met up in-person. In a similar fashion, the Board of trustees has met each month by Zoom conferencing.
Perhaps the group should take most pride in the way members have taken care and looked out for each other throughout 2021 with all its challenges. The spirit of peer support – our self-help ethos – is what makes this group so special.
In 2022, we look forward to working again with Sarah Fraser as part of the Mental Health Project organised by Deborah Rogers of the Cultural Sisters.