JUNE ACTIVITIES
June has been quite a busy month for the group, with celebrations for the Queen's Platinum Jubilee marking its start and end. Her Majesty became monarch on the death of her father, King George VI, on 6th February 1952; it was a year later that her coronation took place in Westminster Abbey on 2nd June 1953. One of our members was privileged to be invited to the Lord Mayor's Jubilee lunch at the Kings Hall Stoke for a group of 70 people over 70. The long Jubilee weekend saw members enjoying a performance of Handel's coronation anthem Zadok the Priest at Penkhull Church, whilst others took part in street parties. Many of us watched national events such as the trooping of the colour and the Pageant on the Mall.
Thanks to the kind generosity of a group benefactor, a number of us were able to appreciate the musical talent of Stoke and District's very own orchestra of young instrumentalists in a concert at the Kings Hall Stoke. The Symphonia Verbum Orchestra performed an innovative programme that included world premiere of The Window by Atefeh Einali, Bruch's Violin Concerto with Laura Embrey as soloist. The concert ended with Vaughn Williams Fifth Symphony in commemoration of the 150th anniversary of the composer's birth.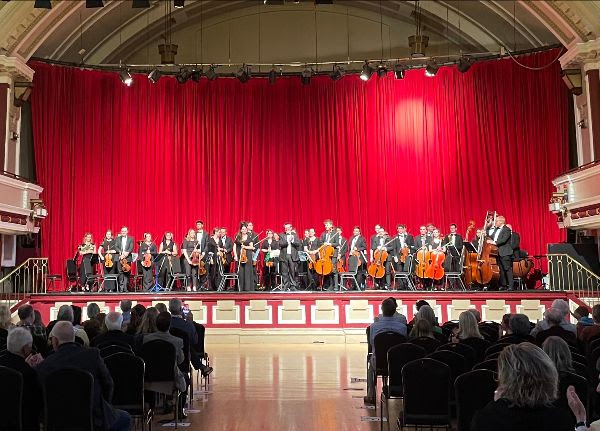 .
At the end of the month, a couple of members took part in the FRONTLINEdance contemporary dance production 'With Soundness of Heart', at the Potteries Museum and Art Gallery, the company then proceeded along Piccadilly, culminating with a finale at Cheapside.
STOKE PRIDE 2022
Of course, Saturday 18 June was Stoke Pride. This year marked 50 years since the first UK Pride 1972 – another jubilee! Golden one this time. A big thank you to everyone who helped with preparations before the event and helped with the stall on the day..especially Stephen M for organising the tombola. There was a record turnout, we had a steady stream of visitors throughout the day with 15 of them signing up to our mailing list. It was an opportunity as well to engage with other LGBT, social and health care organisations. The banner created by members for previous Prides was proudly carried in the parade…again with record numbers of people taking part. A light drizzle cleared for the duration of the walk round the top part of Hanley Park…then we had a downpour which hampered the packing away process. The gazebos have since dried out but await a strong pair of hands to help with storing them in their cases. All credit to Carl, Dominic, Andrew, Deb and all the Stoke Pride team for a brilliant, fun day.
.
WEEKLY MEETINGS
Our weekly meetings on Zoom allowed people to check in and share their stories of the week's events, as well as providing an opportunity to hear health messages and updates on the group's activities. We have welcomed a number of new faces over the month…a trend that we hope will continue
. .
The in person meeting at Fenton Town Hall, featured the latest heath messages from our Community Health Champion John (Windy). With no guest speaker, this allowed plenty of time for members to socialize and catch up with one another.
We are pleased to continue our involvement in the Community Health Champions Initiative led by Voluntary Action Stoke-on-Trent (VAST).
Over the month of June we have promoted health advice on COVID recovery, staying safe in hot weather, cervical screening, … our latest is on Monkeypox

There are still no major worries over the UK outbreak, but Monkeypox is now a notifiable disease in law. This means that all doctors in England must notify their local council or local Health Protection Team if they think a patient has monkeypox.
We all need to be vigilant. Please contact a sexual health clinic if you develop a rash with blisters and you've been in close contact with someone who has or might have monkeypox. Because Monkeypox is very infectious it is important to call the clinic for advice, don't just book an appointment or drop in.
For information about local sexual health clinics go to Open Clinic or call 0300 7900 165
Our WhatsApp chat group is being used by members and supporters. The WhatsApp chat can help us to:
Support each other between meetings
Exchange information about upcoming events and activities
Arrange informal meet ups
Learn new digital skills
The telephone number has not changed, it is still 07757 750255