Thank You

As Her Majesty the Queen's represenative, the Lord Lieutenant of Staffordshire sent us a card to say thank you for the group's contribution within the County during the COVID-19 pandemic.
August – Online and Real Life Meetings
Every Monday in August …including the Bank Holidays, a goodly number of folk have met up online. It has been uplifting to find new faces popping up…as well as individuals persisting in their attendance despite technical issues. We have supported each other and shared experiences of lockdown as well as airing our concerns as restrictions are eased. We have also laughed…a lot!
Undoubtedly the highlight of the month was a picnic in Hanley Park on Thursday 13 August. The weather was perfect…neither too hot nor too cold. Just to see each other face to face was a real joy. Billy and Steve had travelled all the way on their newly acquired electric powered vehicles. A park warden complimented us on observing social-distancing. Brilliant!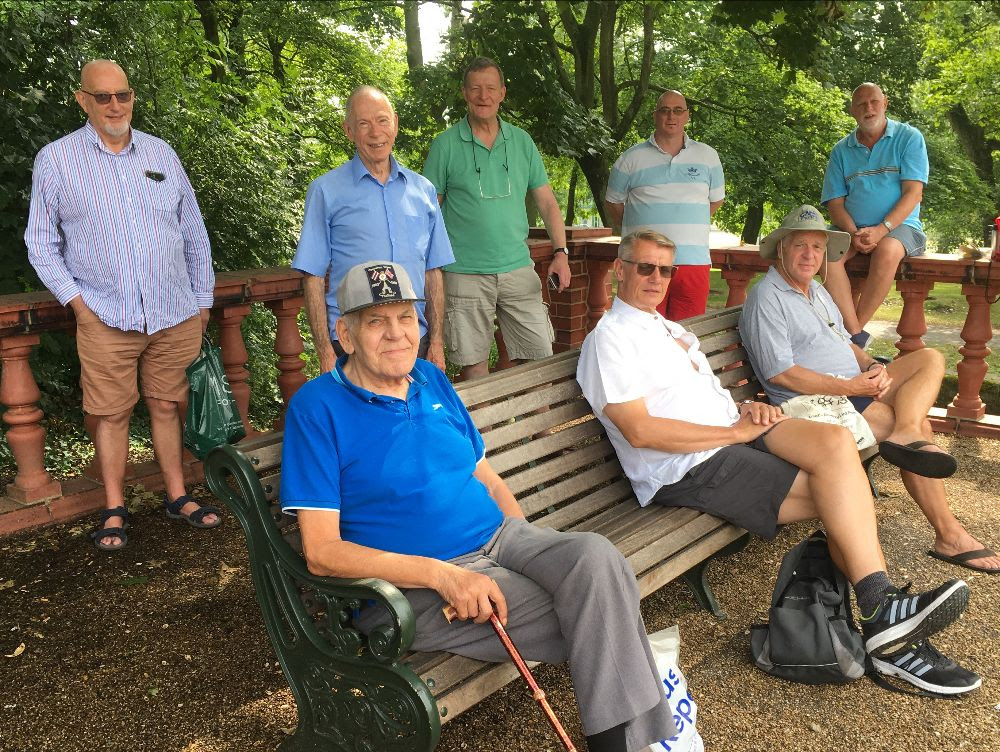 In addition to online Monday group meetings, the Board of Trustees and sub-committees have been meeting on Zoom to oversee the running of the Charity, deal with with correspondence, draw up new policies and seek fresh funding. Fingers crossed that our bid for a six-month project from the National Lottery Coronavirus Community Support Fund will be successful.
Updates to our website have included a new 'art gallery'. Angie has been looking for a space to display her paintings for a very long time. We have come up with a virtual solution. You can see some of her artwork here.
One of Angie's Paintings
Future rooms in the virtual art gallery could be devoted to members' photos. let us know what you think.
Photo – Paul
Want to Help with COVID Research?
The COVID Symptom Study app has been developed by health science company ZOE. 
It is endorsed by the Welsh Government, NHS Wales, the Scottish Government & NHS Scotland. Data collected is shared with and analysed by King's College London & ZOE research teams.
People of all ages and backgrounds are joining together to fight COVID. 
You can support the NHS, help scientific research and help get us out of lockdown safely. Takes 1-minute to report your health daily, even if you are well. Get the app from Apple Store  or Google Play
If you are 60 or over you might like to help with this York University project. A small group of UK university researchers are exploring the effects of COVID-19 on older LGBT+ people. They will be providing project updates on their Blog. You can find more information and take part by clicking
HERE
.
If you haven't already done so, please complete the Healthwatch Stoke-on-Trent Coronavirus Impact Survey to help Stoke-on-Trent health and social care services identify and address quality issues and provide the best care possible.
VIRTUAL PRIDES
For a complete list of postponed or cancelled Prides go to
GAY PRIDE SHOP
Some Resources You Might Find Useful

Staffordshire Buddies in the current crisis, have kindly extended their telephone support for clients to OLGBT Group members. If you would like to receive a weekly call from them, please ring 01782 613429. They are also offering help with shopping and medical prescriptions for people who have to shield themselves.
Street Angels Facebook page
was set up to help indiviuduals who are self isolating. Help offered – help needed
Stoke on Trent COVID-19 Support Network – Local organisations and individuals willing to offer support or require help.

Look up NHS 111 online to check and follow their advice if you think you may have symptoms of COVID-19

Esri UK Portal for Public Health England, World Health Organisation (WHO) and John Hopkins University & Medicine – real time data on total cases, patients recovered and deaths

Switchboard provides a one-stop listening service for LGBT+ people on the phone, by email or through Instant Messaging